In the ever-evolving landscape of wearable technology, Chinese smartwatch continue to push the boundaries of innovation, seamlessly blending style with cutting-edge functionality. As we step into 2023, a new generation of smartwatches has emerged, offering unparalleled features and performance.
Let's explore some of the standout options that have captured the attention of tech enthusiasts and fashion-forward users alike.
Xiaomi Huami Amazfit Bip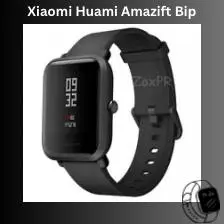 Features: The Amazfit Bip boasts a vibrant 1.28-inch always-on display, GPS tracking, heart rate monitoring, sleep analysis, and an impressive 45-day battery life. It offers multiple sports modes, including running, cycling, and swimming. The watch is IP68 water and dust resistant, and it syncs seamlessly with the Amazfit app for in-depth health insights.
Pros:
Exceptional battery life.
Lightweight and comfortable design.
Always-on display for quick access.
Affordable price with robust features.
Wide range of sports and health tracking capabilities.
Cons:
Limited app ecosystem.
Basic touchscreen functionality.
Design may not appeal to everyone.
Amazfit T-Rex Pro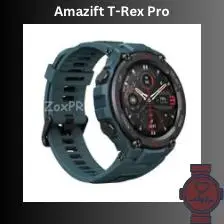 Features: The Amazfit T-Rex Pro is a rugged smartwatch designed for outdoor enthusiasts. It features a 1.3-inch AMOLED display, built-in GPS, heart rate monitoring, SpO2 measurement, and over 100 sports modes. With 10 ATM water resistance, it excels in water-based activities. The watch includes a barometer, altimeter, and compass for comprehensive outdoor tracking. It also offers sleep analysis, stress monitoring, and a robust battery life of up to 18 days.
Pros:
Durable and rugged design.
Extensive sports and outdoor tracking features.
Excellent water resistance.
Long battery life.
Comprehensive health monitoring.
Cons:
Bulkier design.
Limited app ecosystem.
Colmi Smartwatch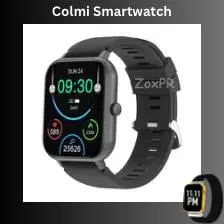 Features: The COLMI Smartwatch packs a 1.3-inch touchscreen, heart rate monitoring, sleep tracking, and multiple sports modes, including running, cycling, and swimming. It offers notifications for calls and messages and has music control functionality. The watch includes a sedentary reminder and a remote camera feature. With IP67 water resistance, it withstands splashes and dust. It pairs with smartphones via Bluetooth for extended functionality.
Pros:
Affordable price.
Variety of sports modes.
User-friendly touchscreen.
Notifications and music control.
Water-resistant for daily use.
Cons:
Limited app compatibility.
Battery life may vary with usage.
Huawei Watch GT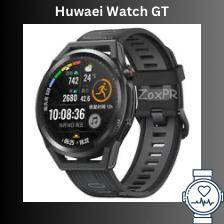 Features: The Huawei Watch GT combines a 1.39-inch AMOLED display with advanced fitness tracking, including heart rate monitoring, sleep analysis, and GPS. Its dual-chipset architecture ensures efficient performance, contributing to an impressive two-week battery life. The watch supports multiple workout modes, stress tracking, and SpO2 measurement. With water resistance up to 5 ATM, it's suitable for swimming. The Huawei Watch GT seamlessly integrates with smartphones, offering call and message notifications.
Pros:
Striking AMOLED display.
Long battery life.
Comprehensive fitness tracking.
Elegant design.
Water-resistant for various activities.
Cons:
Limited third-party app support.
Limited internal storage for music.
Garmin Forerunner 55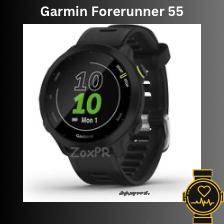 Features: The Garmin Forerunner 55 is a robust GPS running watch with a 1.04-inch display, heart rate monitoring, and built-in sports apps. It provides detailed running metrics, including pace, distance, and VO2 max estimation. With adaptive training plans, it tailors workouts based on performance. The watch supports sleep tracking, stress monitoring, and hydration reminders. Its Body Battery feature assesses energy levels throughout the day. Smartphone connectivity allows smart notifications and music controls.
Pros:
Accurate GPS and running metrics.
Adaptive training plans.
Comprehensive health tracking.
Lightweight design.
Connects with Garmin Connect for in-depth analysis.
Cons:
Limited smartwatch features.
Basic display compared to some competitors.
Why You Need to Buy Smartwatch?
Certainly, here's a breakdown of reasons to buy a smartwatch:
| Reasons to Buy a Smartwatch | Description |
| --- | --- |
| 1. Fitness and Health Tracking | – Monitor heart rate, steps, sleep patterns, etc. |
| 2. Convenience and Notifications | – Instant access to messages, calls, and alerts. |
| 3. Time Management and Productivity | – Calendar, reminders, alarms for efficient time management. |
| 4. Customization and Personalization | – Choose and customize watch faces, apps, and settings. |
| 5. Smartphone Integration | – Control music, take photos, make/receive calls from the wrist. |
| 6. Navigation and GPS | – Navigate, track routes, and get real-time location information. |
| 7. Style and Fashion | – Serve as a stylish accessory with various designs and materials. |
| 8. Wellness and Stress Management | – Track wellness metrics, offer stress management features. |
| 9. Notifications for Health Monitoring | – Receive alerts for abnormal vital signs. |
| 10. Tech Enthusiasm | – Stay updated on the latest wearable technology. |
Each individual may prioritize these features differently based on personal preferences and lifestyle requirements.
Can Smartwatch Reset Easily?
| Aspect | Details |
| --- | --- |
| Ease of Reset | Smartwatches offer a user-friendly reset process for troubleshooting or device preparation. |
| Methods | Reset options include settings menu navigation, button combinations, mobile app initiation, or charging dock use. |
| Data Erasure | Performing a reset typically erases all data, restoring the smartwatch to factory settings. |
| Variability | Reset procedures may vary by brand and model, requiring users to consult specific manufacturer instructions. |
| User Guidance | Manufacturers provide support documentation and customer service for guidance on the reset process. |
| Overall Experience | Generally, smartwatches are designed for easy resets, ensuring a smooth user experience during troubleshooting. |
FAQs:
Q: Which brands dominate the Chinese smartwatch market?

A: Huawei, Xiaomi, Amazfit, Realme, and TicWatch.

Q: What features do Chinese smartwatches typically offer?

A: Fitness tracking, heart rate monitoring, sleep analysis, notifications, GPS, and sports modes.

Q: Are they compatible with Android and iOS?

A: Yes, many are compatible with both Android and iOS devices.

Q: How long is the battery life?

A: Varies, but some offer several days to weeks of battery life.

Q: Are Chinese smartwatches waterproof?

A: Many are water-resistant; check specifications for details.

Q: Can they track sleep?

A: Yes, sleep tracking is a common feature.

Q: Are they suitable for fitness enthusiasts?

A: Yes, equipped with fitness features and sports modes.
Source: ZoxPR
About Author